Check a File's Size With This Simple Command-line Function
I recently had a project dealing with image compression/hosting and I wanted a way to check the size of a hosted file that was quicker than digging into the network panel or opening Postman each time.
So, I wrote a simple function that I've added to my .bashrc file to do exactly that.
Basically it is just a simple wrapper around curl that:
Uses curl -I to fetch the header of a user provided URL
Checks to make sure the header returned useful information
Takes that useful header information and formats it in a way that is easy to understand.
Code
function 

curl-size 

{


  

if

 

[[

 

-z

 

$1

 

]]

;

 

then
    

printf

 

'%s\n'

 

"Please provide a URL"


  

else
    

local 

response

=

$(

curl 

-sI

 

"

$1

"

 | 

tr

 

-d

 

'\r'

 

)


    

local 

statusCode

=

$(

echo

 

$response

 | 

awk

 

'/^HTTP/ {print}'

)


    

local 

byteLength

=

$(

echo

 

$response

 | 

awk

 

'/[cC]ontent-[lL]ength/ {print $2}'

)


    

if

 

[[

 

-z

 

$response

 

]]

;

 

then
      

printf

 

'%s\n'

 

"Please provide a valid URL"


    

else
      

local 

disposition

=

UNKNOWN

      

if

 

[[

 

$statusCode

 

=

 

*

"200"

*

 

]]

;

 

then
        

disposition

=

OK
      

elif

 

[[

 

$statusCode

 

=

 

*

" 30"

*

 

]]

;

 

then
        

disposition

=

REDIRECT
        

local 

newLocation

=

$(

echo

 

$response

 | 

awk

 

'/^[lL]ocation:/ {print $2}'

)


        print 

$statusCode


      

else
        

disposition

=

OTHER
      

fi

      function 

_doMath 

{


        

divisor

=

$1


        print 

"scale=3;

$byteLength

/

$divisor

"

 | bc 

-l


      

}



      

if

 

[[

 

$disposition

 

==

 REDIRECT 

]]

;

 

then
        

printf

 

'redirecting to %s\n'

 

$newLocation


        curl-size 

$(

echo

 

$newLocation

)


      

elif

 

[[

 

$disposition

 

==

 OTHER 

]]

;

 

then
         

print 

$statusCode


      

else
        

local 

value

=

""


        

local 

unit

=

""


        

if

 

[[

 

-z

 

$byteLength

 

||

 

(

$byteLength

 

==

 

"0"

)

 

]]

;

 

then
          

unit

=

"Please provide a valid URL"


        

elif

 

((

$byteLength

>

1000000000

))

;

then

 

#1*10^9


          

value

=

$(

_doMath 1000000000

)


          

unit

=

"gb"


        

elif

 

((

$byteLength

>

1000000

))

;

then

 

#1*10^6


          

value

=

$(

_doMath 1000000

)


          

unit

=

"mb"


        

elif

 

((

$byteLength

>

1000

))

;

then
          

value

=

$(

_doMath 1000

)


          

unit

=

"kb"


        

else
          

value

=

"

$byteLength

"


          

unit

=

"bytes"


        

fi
        
        

printf

 

'%s\n'

 

"

$(

printf

 

'%s\n'

 

"

$value

"

 | 

grep

 

-o

 

'.*[1-9]'

)

 

$unit

"


      

fi
    fi
  fi




}



In Use
Using it for it's original purpose…

It even handles URLs that return non-200 status codes…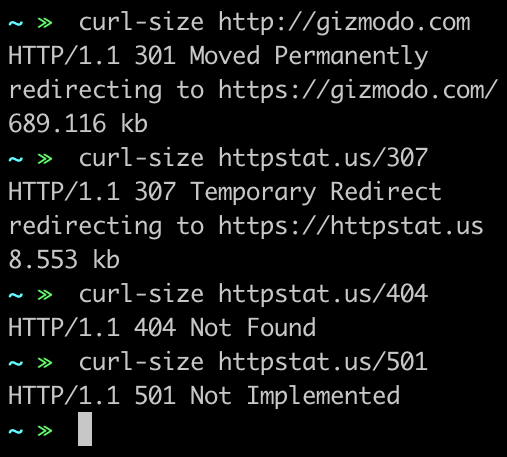 «

All Posts